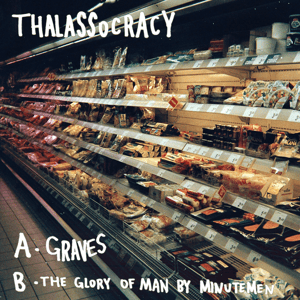 £

2.00 - On Sale
Following the late 2014 online only single, 'Shimensoka', Thalassocracy return with their debut 7", helmed by the urgency of intoxicatingly immediate A-side 'Graves'. The band is now established with a full time cast of Playlounge songsmith Saam Watkins on drums, Slothboat kingpin Lloyd King on bass, and, often found toiling over independent releases via Art Is Hard Records, Richard Walsh takes on vocal & guitar responsibilities.
Fusing obvious and not so obvious influences from a smorgasbord of crunch-punch contemporaries, 'Graves' showcases hooks-a-plenty without a chorus in sight.
Clocking in at less than 2 minutes on the stereo, Walsh says of the track; "Graves is the subject of unfaltering euphoria, when even a fleeting moment can carry an illusioned, weighted sum of joy. It's a happy sad song, rather than a sad happy song so pls sing along."
- - - - - -
For digital download, or to stream the single in full : https://iiicecapades.bandcamp.com/album/graves-7