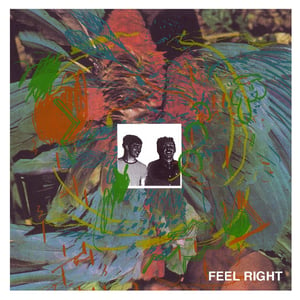 £

10.00 - On Sale
'North West' is the sophomore effort from FEEL RIGHT, fourteen high tempo, lo-fi pop songs made by two twenty some-things with a flair for infectious, sticky, ear worming hooks, and an innate handle on melody.
Both born on 19th May 1983 at different hospitals in the North West of England, Joe Logan and Nick Ainsworth are, in other lives, involved in some of the most vibrant bands to have tripped out of Manchester over the last few years (Waiters, Former Bullies, Sex Hands). With this, their second album, they've conspired to create a record which radiates lightness, levity and competence. It's the sound of two ultra-talented friends teasing the best from one another and doing what seemingly comes so easily to them.
Nick says of the writing process for the record:
"Joe plays a guitar part from his library-like brain, I sing some words that have been playing heavy on my mind and play the drums too. It's all been very quick and spontaneous. I think the songs sound really different to anything else I've played before."
Comprised entirely of first takes, and recorded in two felled swoops at the bands practice space in the City Centre, 'North West' clocks in at a shade under twenty five minutes.
The album will be released digitally via the labels bandcamp, as well as enjoying a limited first run of 100 vinyl copies. Each coming with a hand-assembled, risographed/screenprinted cover from Manchester Artist Lucy Jones.